"The aviation group was deployed very quickly. We were able to do this since the main supplies of material and arms were stored in the material-technical support point in Tartus [Syria]. All that was left to do was to deploy aviation and bring some equipment in," the press service said.
Rusia hanya melaksanakan serangan udara di luar daerah penduduk di Suriah, dan arah tujuannya berdasarkan atas data intelijen yang terkonfirmasi dan dikumpulkan dari beberapa sumber
"To avoid civilian damage, Russian airstrikes are set to hit sites located strictly outside of settlements, based on confirmed intelligence data from various sources," the press service said.
dan berikut adalah tweet dari akun resminya @mod_russia
klik link ini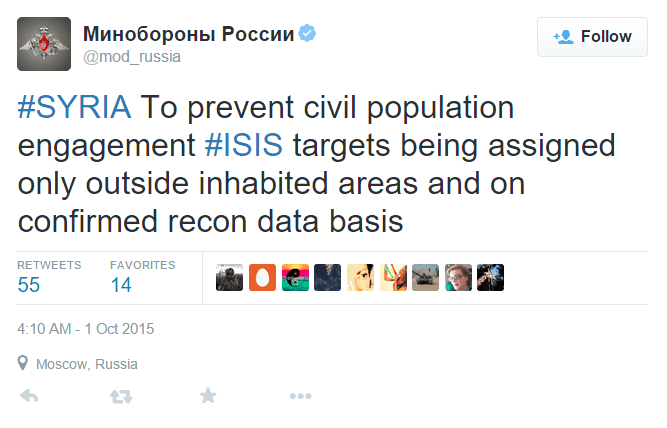 Semua serangan udara yang dilaksanakan sudah disetujui oleh pemimpin militer suriah dan semuanya dikoordinasikan pada markas gabungan di Pangkalan Udara Hmaimim